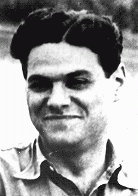 Nenad Dusan Popovic
Born: June 17, 1909
Sremska Mitrovica, Yugoslavia
Nenad was the youngest of nine children born to Serbian Orthodox landowners in the eastern Croatian part of Yugoslavia. During World War I the Popovic family was evacuated to Vukovar by the Austro-Hungarian army, which was then at war with Serbia. In 1928 Nenad moved to Belgrade, where he attended Belgrade University, graduating with a law degree in 1932.
1933-39: My specialty was law related to economics and I found a job in the economic research department of the Yugoslav central bank in Belgrade. Also, I served as an editor for the daily newspaper, Time. I was openly anti-fascist and was alarmed by the rapidity with which fascist ideas were spreading in Europe. When war broke out in Europe in September 1939, Yugoslavia declared itself neutral.
1940-44: On March 27, 1941, two days after Yugoslavia concluded an alliance with Germany, Serbian army officers overthrew the Yugoslav government. On the morning of April 6, the Germans bombed Belgrade in a punitive attack. I had just left my apartment when, minutes later, I saw my building get blasted away. I tossed my keys, and with nothing but the clothes on my back, set off to join the resistance. I never made it. In Sarajevo I was captured by the Germans, and ended up in Germany as a political prisoner.
On April 16, 1945, Nenad was liberated in the Bergen-Belsen concentration camp. After the war, he returned to Yugoslavia and served as a diplomat. He immigrated to America in 1961.