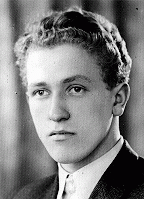 Odon Jerzy Wos
Born: November 18, 1925
Warsaw, Poland
Odon was the third of four children born to Roman Catholic parents in Warsaw, Poland's capital. His father had worked for the Polish merchant marine before starting his own textile business in 1930. When Odon was 8, the family moved to a comfortable apartment located near the Royal Castle and Vistula River. In 1932 Odon began attending grade school.
1933-39: In September 1938 I began secondary school. Sensing growing danger from Germany, my father advised me to study German in addition to French. On September 1, 1939, the day school began, the Germans attacked Poland. For four weeks they bombed Warsaw; there were corpses and blood everywhere. On September 29 Warsaw surrendered.
1940-44: At 16, I joined the Polish underground [Armia Krajowa], and trained for combat and sabotage. On August 1, 1944, the Warsaw uprising began. I took part with my unit in attacks on German strongholds like the main post office. In mid-August I volunteered to deliver ammunition to Warsaw's besieged Old Town by crawling through the city's three-foot-wide sewer pipes. I'd tie a 50-pound sack around my chest and crawl six hours there and four hours back. After 63 days of fighting and being pounded by artillery and bombardments, we surrendered on October 3.
Odon was eventually taken to a POW camp in Austria, from which he escaped to Switzerland on April 20, 1944. He joined Polish troops fighting with the Allies in France.