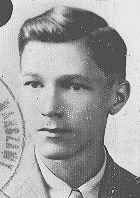 Pawel Zenon Wos
Born: December 22, 1920
Warsaw, Poland
Pawel was the oldest of four children born to Roman Catholic parents in Poland's capital of Warsaw. Pawel's father had worked for the Polish merchant marine before starting his own textile business in 1930. The family moved to a comfortable apartment near the Royal Castle and the Vistula River. Pawel excelled in sports, including basketball and tennis. His favorite sport was rowing.
1933-39: In May 1939 Pawel became an army reserve officer and went to training camp near Augustow. On the morning of September 1, 1939, German planes bombed their camp in a surprise attack. They retreated, moving by night to avoid German air attacks. Then on September 17 their unit was attacked by the Soviets; they surrendered 3 days later. With 20 zloty and a watch, Pawel bribed a Soviet guard and escaped from a POW camp.
1940-44: Back in Warsaw Pawel went to work for his father after he had been allowed to reopen his textile factory. Business required that they visit the Jewish ghetto. Twice Pawel was caught smuggling food into the ghetto and twice his father bribed the Germans to get him released. In 1942, he joined the Polish Home Army and fought in the 1944 Warsaw Uprising. Thirty-two days into the uprising, the Germans arrested his family, and deported Pawel and his father to the Flossenbürg concentration camp as political prisoners.
Pawel was liberated in Flossenbürg by American troops in April 1945. After the war, he returned to Warsaw. In 1961 he immigrated to the United States.