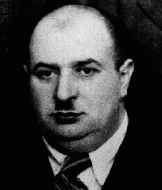 Pinchas Galperin
Born: June 16, 1896
Vilna, Poland
Pinchas was one of 16 children born to a Jewish family. Only nine of the Galperin children lived to adulthood. Pinchas' father worked as a typesetter for a Jewish newspaper and his mother ran a small grocery store. After World War I, Pinchas married Sara Bernstein and the couple moved to Siauliai, Lithuania, where they raised three children.
1933-39: Pinchas and Sara owned and ran a dairy store where they sold milk, butter and cheese that they bought from local farmers. Every morning they would rise early to purchase the dairy products for the store. The family attended Siauliai's Landkremer synagogue--kremer meaning "small businessmen" in German. In 1939 Germany invaded Poland. Lithuania, at the time, was still a free nation.
1940-43: A year after the Soviets occupied Lithuania, German troops entered Siauliai in June 1941 and set up a [Siauliai] ghetto. On November 5, 1943, the Nazis issued conflicting orders on reporting to work. Confusion reigned. Jewish police warned it would be safer to find a work brigade that day. Sara was not in a brigade; Pinchas was, but was home on his day off. He gave her his Jewish star--needed for leaving the ghetto--so she could join a work brigade at a nearby factory, assuring her, "I'm a strong, big man; they won't take me."
Pinchas was rounded up while Sara was at work that day. She later learned he had been deported to Auschwitz and gassed on arrival.