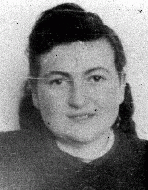 Rifka Fass
Born: 1923
Ulanow, Poland
Rifka was the oldest of three children born to a Jewish family in the Polish town of Ulanow. Ulanow's Jewish community had many of its own organizations and maintained a large library. From the age of 3, Rifka attended a private religious school for girls where she learned Jewish history and Hebrew. At 7 she started public school. Rifka's father worked as a tailor.
1933-39: In 1935 Rifka's father went to America to find a job so his family could later join him. While waiting for immigration papers, Rifka helped her mother support the family by sewing and by making butter and cheese. The family had almost completed the process for immigration when Germany invaded Poland in September 1939. Rifka was ordered to wash laundry for the German troops headquartered in Ulanow's courthouse.
1940-43: After Germany invaded the Soviet Union in June 1941, the Nazis began to round up Jews from the countryside and concentrate them in Ulanow. Though Rifka's family had little room themselves, they managed to take another family into their home. Rifka even dated one of the sons in the family. In October 1942 the Nazis ordered all of Ulanow's Jews to nearby Zaclikov. Fearing deportation, Rifka found a Polish woman who helped her falsify work papers so that she could pose as a Polish laborer in Germany. Soon afterwards, she left.
The Polish woman who had helped Rifka received a letter from her from Berlin several months later. After that, Rifka was never heard from again.