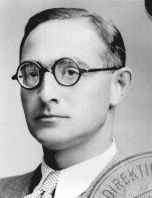 Robert Skutecky
Born: March 24, 1903
Brno, Czechoslovakia
Robert was the second of three children born to Jewish parents in the Moravian capital of Brno, where his father ran a shipping company. Between 1909 and 1920 Robert lived with his widowed grandmother, who resided nearby. He completed secondary school in 1922, and then attended an international trade school in Vienna. Robert earned a doctorate in law from Charles University in Prague in 1930.
1933-39: After apprenticing as a lawyer for five years, I finally opened my own practice in Brno in January 1936. Three years later, in March 1939, the Germans occupied Bohemia and Moravia. Three months into the occupation I was forced out of the legal profession because I was Jewish. Then I was evicted from my apartment. That fall I applied for an exit visa, but my application went unanswered.
1940-45: Frustrated that I'd been disbarred, forced out of my apartment and denied an exit visa, I stormed into the local Gestapo office. I yelled at them and said, sarcastically, that I wanted to know what else I needed to do to make them happy. I was beaten for being impertinent, but they gave me an exit visa. On February 14, 1940, I arrived in Palestine [the Yishuv]. The following year, I enlisted in a British tank brigade and fought in North Africa against the Germans until 1943, when I joined the Czechoslovakian forces in Europe.
Discharged in Europe from the Czechoslovakian army in July 1945, Robert returned to Brno after the war. He immigrated to Israel in 1973.