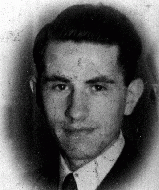 Rudolf Acohen
Born: June 4, 1922
Amsterdam, Netherlands
Rudolf, known as Rudi, and his brother were born in Amsterdam to a Jewish family of Spanish descent. The family lived in a pleasant neighborhood in the southern part of the city. Rudi attended Montessori grade school and high school.
1933-39: For summer vacation in 1935 Rudi's parents rented a house near the beach in Zandvoort, near Amsterdam. There he met a girl, Ina, and they became good friends. In the summer they discovered that they would be attending the same Montessori high school. Rudi and Ina and their many friends liked to get together in the evenings at someone's home and listen to records of Frank Sinatra, classical music, and popular French songs.
1940-42: Germany invaded the Netherlands on May 1940, but for a while there was still a sense of normal life. Rudi still met with his friends to play tennis, and sometimes they took long bike trips together. In the summer of 1941 they biked for several days, and Rudi kept a diary of their adventures.
On Sunday, June 7, 1942, Rudi was arrested in a raid in retaliation for the murder of a German in Amsterdam. Rudi was immediately deported to a killing center, where he perished.