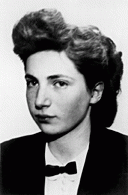 Ruth Elisabeth Dahl
Born: May 30, 1922
Geilenkirchen, Germany
Ruth was born into an orthodox Jewish family in Geilenkirchen, a rural German town near the Dutch border. Her father, Isidor, was a respected cattle dealer in the area and her mother, Sophia, took care of the home. Ruth had two older siblings, Edith and Carl.
1933–39: When the Nazis came to power in Germany, life changed in Geilenkirchen. The townspeople supported the new regime and nobody helped their Jewish neighbors. Excluded from public institutions, Ruth attended a private Catholic school. In 1938, her father was forced to close his business and sell their home at a considerable financial loss. Later that year, the Dahls left for the Netherlands, where Sophia had been born. They settled in Valkenburg and soon Isidor returned to cattle dealing. Carl went to live with his maternal aunts in nearby Maastricht.
1940–44: On May 10, 1940, German troops invaded western Europe. Ruth watched as enemy aircraft filled the sky. A few days later, the Netherlands was occupied. In summer 1942, the Nazis began rounding up Jews for deportation. Ruth's maternal aunts were taken to the Auschwitz killing center, where they perished. Carl volunteered to go with them and was selected for forced labor. After the police took their Jewish neighbors away, Ruth and her parents went into hiding with the help of the Dutch resistance. Separated from her father and mother, she spent the next two years moving from one refuge to another.
In September 1944, Allied troops entered the Netherlands and Ruth came out of hiding. She returned to Valkenburg, where she was reunited with her parents. After the war ended in 1945, Ruth learned that her brother Carl had perished on a death march just three days before liberation. In 1948 she immigrated to the United States, joining her sister Edith who had left Europe some eight years earlier. Ruth married and has three daughters and four grandchildren.