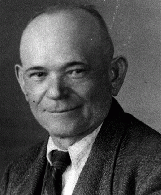 Samson Reichstein
Born: March 24, 1884
Tarnopol, Poland
Samson was raised by Jewish parents in Tarnopol. His father died when Samson was 13, and Samson went to work to help support his mother and four brothers and sisters. In October 1918 Samson married Kaethe Ert, and the couple moved to Hanover, Germany, where Samson worked as a traveling salesman. Their son Herbert was born in 1920.
1933-39: In 1938 Kaethe and I got our son an exit visa on America's Polish quota (since we were Polish citizens). Later that year, the Gestapo came to our door with deportation papers. We were among 1,000 Jews from Hanover sent "home" to Poland. We went by train until just before the Polish border. Then, while the women stayed on the train, the men were ordered to continue on foot. The Nazis beat us men and literally shoved us into Poland.
1940-44: Having met up after crossing the border into Poland, Kaethe and I made our way to Tarnopol, which was occupied by the Soviets. Then the Germans invaded in 1941 and I was arrested for evading a forced-labor detail for Jewish men. In jail, a drunk SS guard was screaming in German, "Who killed the German soldier?" When no one answered, he yelled, "Who speaks German?" I stepped forward. He made me repeat the question in Polish, and said if nobody confessed I'd be shot. I stood there, expecting a bullet in my back at any moment.
Samson was released by the SS guard. He survived the war and immigrated to the United States in 1946.