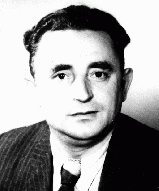 Shaye Rothkopf
Born: 1910
Lowicz, Poland
Shaye's town in the province of Lodz had a Jewish community that comprised almost one-third of the town's population. Shaye was very young when his father died during World War I. Afterwards, his grandparents helped to support his family. When Shaye was a teenager, his mother died. He and his siblings then lived with their grandparents.
1933-39: Swimming was Shaye's favorite pastime and he'd go with his friends to the banks of the Vistula River on every possible occasion. He worked in Lodz for a company that sold housewares. He went there to live because his wife was from that city. He loved to talk with his customers and to get to know new people. Shaye and his wife celebrated the birth of their beautiful son. On September 8, 1939, the Germans entered Lodz.
1940-44: Lodz's squalid ghetto had been blocked off since April 30, 1940. Many people were dying of typhus. The Nazis set up factories where Jews worked for meager food rations. Shaye's wife and 7-year-old son were taken away, brought to the outskirts of Lodz, and shot to death. Shaye was deported to Auschwitz, and then to the concentration camp at Dachau.
Shaye was liberated on April 29, 1945. He spent four years in Germany, recuperating from illnesses contracted in the camps. In 1949 he immigrated to the United States.