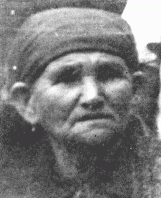 Terez Goldberger Kalman
Born: 1851
Satoraljaujhely, Hungary
Terez came from a religious Jewish family. She and her husband, Samuel, raised eight children in Satoraljaujhely, in northeastern Hungary. The Kalmans lived on the outskirts of the city, and in the 1920s they ran a canteen for the soldiers who lived in the nearby barracks. The Kalmans were proud Hungarians; one of their sons had died in World War I.
1933-39: Since Samuel died a few years ago, I've been alone here in my house in Satoraljaujhely. Many of my children live nearby, though, so my home is often filled with the chatter of grandchildren. Right now, my son Ferenc's 10-year-old daughter Judith is visiting me. I don't see her very often because her parents live in another town. She is a sensitive girl who loves to recite Hungarian poetry and sing gypsy songs.
1940-44: It's been four weeks since German troops occupied Hungary. The roundup of Jews into ghettos in northeastern Hungary began one month after the occupation, on the first day of the Jewish holiday of Passover. Officials have publicly justified the operation on grounds of military security. When the Hungarian gendarmes came to my house earlier tonight to tell me I'd have to leave tomorrow for the ghetto in Satoraljaujhely, I told them that the country ought to be ashamed to be afraid of a 93-year-old woman.
The following morning, the gendarmes went to take Terez from her house and found her dead. She was buried next to her husband's grave in Satoraljaujhely.