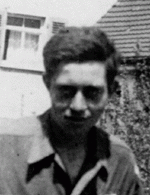 Werner Katzenstein
Born: April 29, 1922
Wallensen, Germany
Werner was raised in the rural German town of Herleshausen, where his family owned a farming supply business. His father sold seeds to local farmers and purchased their grain, while his mother ran the office. After several years of public schooling in Herleshausen, Werner began attending a high school in Eisenach, some 12 miles from their home. The Katzensteins were one of about two dozen Jewish families living in the area.
1933–39: When the Nazis came to power in January 1933, the Katzensteins' lives were abruptly changed. Werner's father was arrested, held in "protective custody" for several weeks and then released. The local Nazis also pressured farmers and others to boycott Jewish enterprises. In 1935, Werner's father was forced to close down his business, and two years later, the family left for the Netherlands, where they operated a farm. After seeking admission to England, South America, and Palestine, the Katzensteins obtained U.S. visas. They arrived in the United States in June 1939.
1940–45: The Katzensteins bought a farm near Camden, New Jersey, where they raised chickens. Werner worked on the farm, plowing the fields with a team of horses and carrying out other duties. In 1944, he was drafted into the U.S. Army and served on the frontlines in southern France, where he was wounded. After his release from the hospital, he rejoined his unit as it fought its way into the interior of Germany.
When the war ended in May 1945, Werner was transferred to the U.S. military government of occupation in Germany. He returned to Herleshausen, but there were no Jewish families left in his hometown. In 1946, Werner returned to the United States, where he took up farming once again.