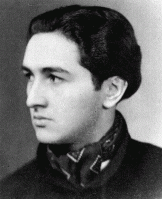 Abraham Malnik
Born: January 31, 1927
Kovno, Lithuania
Abraham was born to a Jewish family in Kovno, a city picturesquely situated at the confluence of two rivers. With an opera company, chic stores and lively nightclubs, it was often called "Little Paris." The city had a large Jewish community of 38,000 and was known for its extensive Hebrew school system. Abraham's father was a barber, and his mother was a beautician.
1933-39: When I was a kid we used to go to my grandparents' house for Sunday dinner. In the winter we'd take a horse-drawn sleigh. My parents would bundle me up in fur blankets, and we'd set off, the horses' bells ringing, our sleigh gliding over the white roads. When we arrived, my grandfather would kiss me gently on the forehead, his beard tickling my face, and my grandmother would hug me tightly.
1940-44: I was 14 when the Germans occupied Kovno and forced the city's Jews into a fenced-off ghetto. One day the Germans started rounding up all children to take us away. I scrambled to hide in a potato cellar with two mothers and their babies. Through a crack I saw a German guard searching for escapees. One baby started crying and I thought, "Please, God, please!" The wailing suddenly stopped. Later, I gave the "all clear" sign and we climbed out of our dark hole. One baby was dead, accidentally choked by his mother.
In 1944 Abraham was deported from Kovno. He survived five concentration camps and was liberated at Theresienstadt in 1945. He immigrated to America two years later.