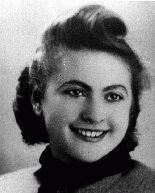 Amalie Petranker
Born: October 21, 1922
Munich, Germany
Amalie was one of three daughters born to Jewish parents. The family lived in Stanislav [Stanislawow], Poland. Her father was an ardent supporter of resettlement in Palestine, and dreamed of moving his family there to help build the Jewish homeland. Amalie and her sisters attended private Hebrew primary and secondary schools to help prepare them for their eventual immigration to Palestine.
1933-39: In September 1939 Stanislav [Stanislawow] was occupied by the Soviet army. My father lost his job in the forestry department, and was made a laborer. I applied to medical school but instead I was admitted to an institute to become a math and science teacher. Later my stipend was rescinded because I was from a "bourgeois" family. The 600 rubles per month tuition was three times my father's monthly salary. I was forced to stop my education.
1940-45: I escaped to Cracow [Krakow] in 1942 as Felicia Milaszewska, a Catholic Pole. In October 1944, I got a job in an Austrian firm hired by the German army to wire Cracow with explosives. The Germans planned to destroy Cracow after retreating. As the Soviets advanced in December, the firm evacuated to Austria. I was left to "manage" the company. When the order came by phone to detonate the explosives, I acknowledged the command, but disobeyed. When the Soviets arrived, I supplied plans showing the location of the explosives.
Cracow was liberated by the Soviet army on January 19, 1945. Amalie stayed in Cracow for seven months to help returning Jewish survivors. She immigrated to the United States in 1947.