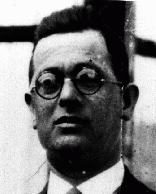 David Mendel Petranker
Born: 1895
Delyatin, Poland
David was one of eight children born to observant Jewish parents living in the small town of Delyatin. During World War I, David served in the Austrian army. Following the war, he married Frieda Gaenger and moved to Stanislav [Stanislawow]. There, David worked in his father-in-law's lumber business.
1933-39: David had a post as vice-director of the forestry ministry's regional office. His three daughters attended private schools. David was an ardent Zionist, and looked forward to moving his family to Palestine soon. In August 1939 his oldest daughter married a man from Palestine; just before Soviet forces occupied Stanislav on September 18, 1939, the couple left for Palestine.
1940-45: The Germans occupied Stanislav in July 1941. Before year's end, they had killed David's wife and youngest daughter, leaving David and his middle daughter, Amalie. In 1942 he was deported on a train headed to the Belzec killing center. He pried boards from the car floor and escaped by lowering himself from the moving train onto the tracks. He ran to a farmhouse where a Ukrainian peasant agreed to keep him if he worked on her farm. Though safe, he felt he had to look for Amalie. He boarded a train for Stanislav.
En route, David was betrayed, turned over to police, and executed. Unknown to him, Amalie had already escaped from Stanislav and was living near the farm where he worked.