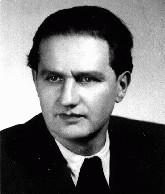 Bela Blau
Born: March 25, 1910
Bratislava, Slovakia
Bela's city of Bratislava, located on the banks of the Danube river, had an old and important Jewish community. Bela was the eighth child in his large Jewish family. His father was a furrier. At age 16 Bela began working as a salesman for a textile business. In 1930 he was called up for 18 months of army service.
1933-39: Bela and his wife moved to the Slovakian city of Zilina. Their son was born in November 1937. Bela worked for a German photographic company until 1938, when he lost his job because he was Jewish. When the fascist Slovakian state was declared in March 1939, they, like other Jews, were evicted from their house. They moved to the city's outskirts, where Bela worked in short-term jobs. They never knew when someone might come to take them away.
1940-44: In 1942 Bela and his family were deported to Auschwitz. There, his wife and baby perished. Bela was sent to do forced labor. In the "Kanada" detachment they sorted prisoners' confiscated belongings and prepared them to be sent back to Germany. A few hours a day he did clerical work. In the camp he met Magda, a Slovakian woman. He told her how she could find him after the war. Bela explained: "My number is 65066 and yours 2318. 6+5=11,6+6=12, 11+12=23, and 6x3=18. Simple as that."
After the war, Bela and Magda were married in Czechoslovakia, where they had a small business. After first immigrating to Israel, they settled in Australia in 1965.