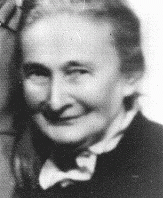 Bella Judelowitz
Born: 1871
Kuldiga, Latvia
Bella, born Bella Hirschorn, was raised in a Jewish family in the Latvian town of Kuldiga. When she was a young woman, Bella moved to the small town of Aizpute, where she met and married Daniel Judelowitz. Together they opened a bakery-grocery in the town. In the 1920s they moved to Liepaja and opened a dry goods store. The couple had 10 children, one of whom died in infancy.
1933-39: The Judelowitzes' store sold fabric and various clothing items and accessories from buttons to shirts and stockings. After Bella and Daniel retired, their daughters took over the business. In 1939 Germany invaded Poland. Latvia, at the time, was still a free nation.
1940-41: A year after the Soviets occupied Latvia, German troops entered Liepaja in June 1941. Bella and her husband were ordered, as were all of Liepaja's Jews, to report to the local police station to register and to turn in their valuables. Within weeks of the occupation, mass executions were carried out by the Germans on the Baltic coast. These were halted in August. Then between September and December hundreds of Jewish men and women were killed because they were classified as "unfit for work."
In 1941 on Yom Kippur, the Jewish Day of Atonement, Daniel and Bella were arrested and deported. Neither was ever heard from again.