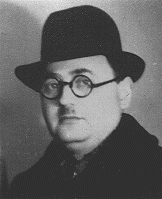 Bernard Rechnitz
Bernard was raised by Jewish parents in the small southwestern Polish town of Bedzin. In 1930 Bernard moved with his wife, Ruchla, to the nearby city of Katowice, where he owned a wholesale leather business. The couple lived with their two children, Moses and Genia, in a three-bedroom, upper-floor apartment on Jordana Street.
1933-39: In 1939 Bernard, who was a Zionist, decided the family should emigrate to Palestine [the Yishuv]. His son, Moses, had been the target of antisemitic taunts at school. Bernard himself had been harassed by antisemitic hooligans as he walked home from work. Bernard sold his business and the Rechnitz family packed up their household. Their luggage was at the Katowice railroad station waiting to be shipped when war broke out that September 1.
1940-44: By 1942 Bernard and his family had been deported to a labor camp on the site of an ammunition factory, in Skarzysko-Kamienna. Bernard was put to work in subcamp C where workers filled artillery shells with picric acid, a yellow, poisonous powder absorbed through the skin. One day, someone dropped a loaded artillery shell that exploded, injuring several people, including his wife, Ruchla. To help her recover, Bernard had his gold teeth extracted and sold the gold on the black market to buy Ruchla nourishing food.
With no medical care, Ruchla died. Over the next three years Bernard was sent to several different Nazi camps, including Buchenwald. After the war, he immigrated to Palestine.