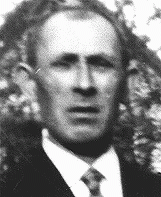 Bernhard Liebster
Born: 1882
Oswiecim, Poland
Bernhard, who was from a religious Jewish family in the Polish town of Oswiecim, emigrated as a young man to Frankfurt, Germany. There he married Bertha Oppenheimer from the nearby town of Reichenbach. They settled in Reichenbach where they were one of 13 Jewish families. Bernhard worked as a shoemaker, and the couple raised three children.
1933-39: In a corner of his living room, Bernhard ran a small shop specializing in orthopedic shoes. Antisemitism was growing in Germany, but the townspeople of Reichenbach lived contentedly with their Jewish neighbors, even after nationwide pogroms [Kristallnacht, Night of Broken Glass] in November 1938. But when Germany went to war in September 1939, Bernhard's son, Max was arrested while on an outing in Baden.
1940: The Gestapo arrested Bernhard in the winter of 1940 during a campaign to "cleanse" Reichenbach of its Jewish inhabitants. Bernhard was sent to the Sachsenhausen concentration camp near Berlin in northern Germany. By chance, his son, Max, was sent there as a prisoner a few weeks later. Max found Bernhard in the barracks lying behind a pile of straw. With swollen and infected legs and fluid in his lungs, Bernhard was close to death.
Bernhard died in Sachsenhausen in March 1940. He was 58 years old.