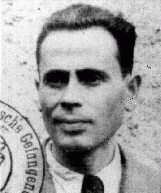 Max Liebster
Born: February 15, 1915
Reichenbach im Odenwald, Germany
Max was one of three children born to a Jewish family living in a small town in the Hessian part of Germany. His father was originally from Poland. After eight years of public education, Max completed three years of business school and learned to become a window decorator. In 1929 he found work in Viernheim, a village near Mannheim.
1933-39: I worked for a clothing store where I was in charge of window dressing. Except for the weekends when there were Nazi marches, life was quiet in Viernheim. Right after Germany attacked Poland in September 1939, some friends picked me up for an outing in Pforzheim-Baden. The next thing I knew, a Gestapo agent arrested me because I was Jewish. I was placed in the local prison and my property was confiscated.
1940-44: After four months I was released from prison and sent to the Sachsenhausen concentration camp. There, by chance, I was reunited with my ailing father. When he died in April 1940, the Nazis let me take his body to the crematorium. Between 1941 and 1943 I was interned in the Neuengamme concentration camp. Then I was deported to Auschwitz, where I helped build the Buna synthetic rubber factory operated by I.G. Farben. In January 1945 I was force-marched to Gleiwitz and then transported to Buchenwald.
During the war Max became a Jehovah's Witness. Liberated by the U.S. Army in 1945, he settled in Aix-les-Bains, France, where he founded a Jehovah's Witness congregation.