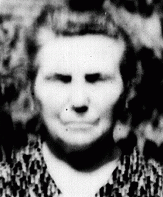 Bertha Falkenstein
Born: December 22, 1877
Bergheim, Germany
One of two children, Bertha grew up in the small village of Bergheim where her father was a farmer. After she married Leo Falkenstein, the couple settled in Hochneukirch, 20 miles northwest of Cologne. There her husband was employed in his father's cigar manufacturing business, "Isak Falkenstein and Sons." Bertha and Leo had six children whom they raised in the Jewish faith.
1933-39: In 1937 Bertha's daughter Johanna brought her two girls to live briefly with them in Hochneukirch. Johanna's husband, Carl, was having trouble finding employment, partly because of the growing discrimination against Jews after the Nazis came to power in 1933. The girls enjoyed playing in the Falkensteins' large backyard and helping their grandmother gather fruit from the orchard and flowers and fresh vegetables from her garden.
1940-44: In 1942 Bertha and Leo were deported to the Theresienstadt ghetto in Czechoslovakia. Leo died of illness and malnutrition a few months after they arrived. When Bertha's daughter Johanna and her family were deported to Theresienstadt at the end of June that same year, Bertha met them at the station. Johanna was upset to see how thin her mother had become and could not help crying in front of her daughters, Margot and Lore.
In May 1944, 66-year-old Bertha was deported to Auschwitz, where she perished. Margot was the only member of the extended family to survive Theresienstadt and Auschwitz.