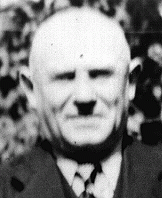 Leo Falkenstein
Born: July 30, 1874
Hochneukirch, Germany
One of three children, Leo grew up in the small town of Hochneukirch, 20 miles northwest of Cologne. As an adult, Leo entered his father's cigar manufacturing business, "Isak Falkenstein and Sons." Leo and his wife, Bertha, lived in a house next to Leo's parents. Leo and Bertha had six children whom they raised in the Jewish faith.
1933-39: Leo and Bertha's daughter Johanna has brought her two girls to live with them for a while here in Hochneukirch. Johanna's husband, Carl, has been having trouble finding employment, partly because of the increased discrimination against Jews since the Nazis came to power a few years ago. The girls enjoy playing in their large backyard and helping their grandmother gather fruit from the orchard and flowers and fresh vegetables from the garden.
1940-42: A few weeks ago, Leo and Bertha were deported to the Theresienstadt ghetto in Czechoslovakia. Leaving their family and most of their belongings behind was devastating. Living here is an even greater test of their strength. There are convoys leaving the ghetto all the time of people being deported "eastward"--the threat of deportation hangs over them daily. They live in squalid, poorly heated barracks. The food they brought from home has run out, and the rations they receive here are meager. Leo wonders how a tall, heavy-set man like himself can hope to survive.
Leo died in Theresienstadt in 1942 at the age of 67. In May 1944 his wife Bertha was deported to Auschwitz, where she perished.