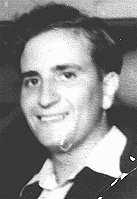 Chuna Grynbaum
Born: April 1, 1928
Starachowice, Poland
Chuna was born in a small one-story house that served as both his family's residence and their tailor shop. He was the youngest of nine children born to religious Jewish parents. The family's tailor shop mostly served Starachowice's Catholic Poles. The work was often done in exchange for goods such as firewood or a sack of potatoes.
1933-39: My father died unexpectedly in June 1939. After returning from synagogue one day, he lay down to rest. He asked me to close the shade to darken the room. I did, and when I next looked at him, blood was running from his mouth. I ran to my mother, who dispatched me to get the doctor. But when I returned, he'd already died. We buried him in the Jewish cemetery outside town. That September, the Germans occupied Starachowice.
1940-45: I was 13 when I was sent in 1942, with some of my family, to do forced labor at a munitions factory. One night in 1943 my sister, Faiga, told me there was going to be an escape. The camp lights were cut, and then we tried to squeeze through a hole cut in the fence, but it jammed up with other prisoners. Then I heard gunfire and a bullet struck my head. Bleeding, I ran back into the camp. The next day we were marched to the hole in the fence. Wounded prisoners still lay there. My sister was among them, but she was dead.
Chuna was deported to the Buna-Monowitz labor camp at Auschwitz, and later to the Flossenbürg camp in Germany. At 17 he was liberated and one year later he immigrated to the United States.