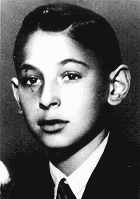 Ernest Domby
Born: March 9, 1925
Teplice-Sanov, Czechoslovakia
Ernest's father was a professional musician who toured with a Gypsy band and was often away for several months at a time. At home in Teplice-Sanov, a town in the Sudetenland near the Czech-German border, Ernest's mother took care of Ernest and Elizabeth, his younger sister, and the children's invalid grandmother. Ernest's uncles, Rudolf and Viktor, helped the family.
1933-39: In Teplice-Sanov I was expelled from secondary school for being Jewish--my Uncle Viktor then helped to get me into a private Jewish school. A few days before the Germans marched into the Sudetenland in 1938, our family fled to Prague where another one of my uncles lived. We were in Prague for only five months when the Germans occupied the city.
1940-44: In 1942 I was deported with my family to the Theresienstadt ghetto northwest of Prague. From there I was deported to Auschwitz camp. At night our dinner consisted of watery soup. From Auschwitz I was transported to Gross-Rosen and then Friedland labor camp, a subcamp of Gross-Rosen. There I was assigned to perform work for the German war effort.
As the Soviet army was approaching in 1945, the camp guards deserted their posts, and Ernest and some other prisoners fled to the forest. After a few hours hiding from the retreating German troops, they were discovered by Soviet soldiers and received medical treatment and food. Ernest immigrated to the United States with his mother in 1946. The rest of their large family did not survive.