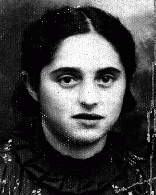 Frieda Altman Felman
Born: May 17, 1917
Warsaw, Poland
Frieda grew up in a crowded one-room house in Sokolow Podlaski, a small manufacturing center in central Poland. Frieda's father had died when she was two years old, and her mother had then moved back to her hometown of Sokolow Podlaski, where she opened a poultry shop. The Altmans were a Yiddish-speaking, religious Jewish family, and Frieda was the youngest of four children.
1933-39: German troops entered Frieda's town on September 20, 1939. She was huddling, frightened, with family and friends in a shelter when three soldiers came in and forced her and two girlfriends to go out to the back of the building. There the soldiers raped Frieda at gunpoint. She didn't think her fiance would still want to marry her after that. But Mendel understood. Together, Frieda and Mendel fled to Soviet-occupied Bialystok, where they married on November 14.
1940-44: In January 1940 the Soviets sent Frieda and Mendel, along with many other Jewish refugees in Bialystok, east to work camps in Siberia. There Mendel was put to work cutting trees, and Frieda gave birth to her son Abraham. Then they were sent to work on a collective farm in the Crimea. The invading Germans reached the Crimea by September 1941, and knowing what the Germans were doing to Jews, the Soviets evacuated the Jews to the Caucasus, first to Azerbaijan and then to Armenia. It was in the Caucasus that Abraham died from diptheria.
Frieda and her family returned to the Crimea after the Germans retreated in 1944. After the war, the Felmans returned to Poland and in 1949 they immigrated to the United States.