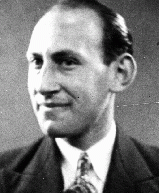 Jacob Polak
Born: December 31, 1912
Amsterdam, Netherlands
Jacob, known as "Jaap," and his three sisters grew up in Amsterdam in a religious, Zionist Jewish family that could trace its roots in the Netherlands back 200 years. Jaap attended a Jewish elementary school until the age of 12, and then enrolled in a commercial high school, where he studied accounting. After graduating, he took a position in the Amsterdam Carlton Hotel. He worked there in 1931 and 1932.
1933-39: My life had been centered mostly in the Jewish community, so the Carlton Hotel was a new, cosmopolitan environment for me. I had a chance to meet all kinds of interesting people. While I was working, I was also studying to become a certified public tax consultant. In 1937 I passed the exam, and I joined my father's accounting practice.
1940-44: In 1940 the Germans invaded the Netherlands; three years later I was deported to the Westerbork camp. There, I became principal of the camp's school. The school was equipped with books and supplies because the Nazis wanted to foster the illusion that we were simply on our way to "resettlement in the east." Most children attended class for only one week before being placed on outgoing transports. In February 1944, when the deportation trains were regularly leaving Westerbork, I was deported to the Bergen-Belsen concentration camp.
In April 1945 Jaap was liberated by the Soviets in Troebitz, near Leipzig. After the war, he returned to the Netherlands. In 1951 Jaap immigrated to the United States.