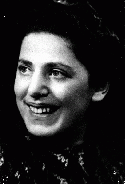 Julia Polak Bolle
Born: July 17, 1914
Amsterdam, Netherlands
Julia, her brother and two sisters grew up in Amsterdam in a religious, Zionist Jewish family. The Polak family could trace its roots in the Netherlands back 200 years. Julia attended a Jewish school, and she was proficient in Hebrew.
1933-39: Julia loved to study and teach the Hebrew language. As a leader of Zionist youth, Julia spoke to many groups about creating a Jewish home in Palestine [Yishuv]. Her boyfriend was also involved in Zionist work, and in 1938 they were married. The couple became part of a training program, called "hachshara" in Hebrew, which prepared Jewish youth for agricultural work in Palestine.
1940-44: The Germans invaded the Netherlands in May 1940. In July 1943, as part of a Dutch agreement with the Germans, Julia and her husband were placed on a list of Jews to go to Palestine in exchange for a group of Germans who were living there. They were deported first to the Westerbork transit camp in the Netherlands, and eight months later to the Bergen-Belsen camp. There they were housed with Jewish prisoners designated for exchange. But the exchange never materialized; they were kept at Bergen-Belsen as forced laborers until 1945.
Two days after Julia and her husband were liberated on April 15, 1945, 31-year-old Julia died of typhus. Her husband survived.