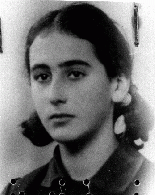 Janina Prot
Born: February 8, 1926
Nowe Miasto, Poland
Janina's parents had converted from Judaism to Catholicism in the 1920s. When Janina was 4 years old, her parents divorced; Janina left Warsaw and went to live with her father near the Polish town of Radom, while her brother Tomas remained in Warsaw with his mother. Janina, or Jana as she was affectionately known, loved to read.
1933-39: When I was 12 I moved back to Warsaw to attend secondary school, and stayed with my mother. A year later, on September 8, 1939, the Germans were bombing Warsaw. Thinking it might be safer downtown, we rushed to stay at my aunt's apartment. But on September 25 as I stood on one side of the living room in her apartment, and my cousins and their 3-month-old baby stood on the other, a bomb fell through the ceiling, killing them.
1940-44: The Nazis persecuted converted Jews, so my mother, brother and I hid at a convent near Warsaw. But I so missed studying that I returned to the city. Once, some half-Jewish friends and I were changing streetcars at a stop just outside the ghetto. We were grabbed and asked by the Germans why we "Jewish children" were leaving the ghetto. "We're not Jewish!" we answered. But they said they could tell we were by looking at us. I showed them papers from the convent school, saying, "If I were, would I go to a Catholic school?"
The Germans released Jana and her friends. Jana graduated from secondary school in Warsaw in 1943. She lived in Poland until 1971, when she immigrated to the United States.