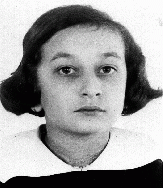 Jenine Gutman
Born: June 25, 1925
Bacau, Romania
Jenine was the younger of two daughters born to Jewish parents. They lived in a small city with a large Jewish population in central Moldavia. Her father, a veteran of World War I, came from a large family and Jenine had more than 15 aunts and uncles, all living in Bacau. This extended family helped raise Jenine and her sister Sofia while their parents ran a grocery store.
1933-39: Just like every child her age, Jenine belonged to a national youth organization headed by Prince Michael. They wore special uniforms with berets and leather belts, and held patriotic rallies in the stadium. Jenine's father became ill; business suffered and he lost his store and everything that they owned. In 1938, they moved to the national capital, Bucharest, where her father got a new job as a factory clerk and Jenine went to a new school.
1940-44: The fascist Iron Guard was now in power, but Jenine's patriotism no longer made any difference. Because she was Jewish, she was forced out of public school. Although makeshift, their Jewish schools had excellent teachers; Jenine chose to study bookbinding. After Jews were excluded from public hospitals, a Jewish clinic was organized in Bucharest. Jenine worked in its cafeteria. New restrictions were imposed. There were pogroms. The government made her family provide clothing and bedding to the Romanian army.
Jenine was liberated by the Soviet army in August 1944. She continued to live in Romania until 1976, when she immigrated with her family to the United States.