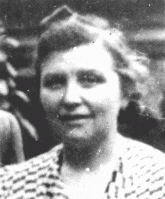 Johanna Falkenstein Heumann
Born: July 24, 1902
Hochneukirch, Germany
The oldest of five children, Johanna was born to Jewish parents living in a small town near Cologne. Her father owned a cigar factory. After Johanna graduated from high school, she worked in a bank in Cologne. At 22 she married Carl Heumann and the couple settled in the village of Hellenthal near the Belgian border. There they owned a general store. The couple had two daughters, Margot and Lore.
1933-39: A year ago our family moved to nearby Bielefeld, and I enrolled Margot and Lore in the city's public schools. Today, they've been expelled from their classes, and not understanding why, they've come home crying. How can I explain the Nazis' anti-Jewish measures to children who are 7 and 10 years old? Now I'll enroll them in a Jewish school where they'll have teachers who, like them, have been kicked out of the German schools.
1940-44: Our family has been deported from the Theresienstadt ghetto to Auschwitz. Today, our 16-year-old, Margot, has been ordered onto a forced labor convoy. We don't know where she will be taken, but from what we've seen, we fear that she will never return to this camp. I have the option to go with her, but my 13-year old Lore is too young to go, and she's also too young to stay here alone. I can't leave her. Still, how can I find the words to say goodbye to my Margot?
Johanna, her husband, Carl, and her daughter Lore are believed to have perished at Auschwitz. Margot was liberated at Bergen-Belsen in April 1945 and immigrated to America in 1947.