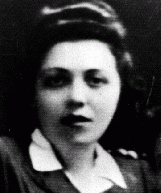 Jolan (Cipi) Katz
Born: October 17, 1915
Hajdunanas, Hungary
The oldest of eight children, Jolan grew up in a religious Jewish family. She was usually known by her Yiddish nickname, Cipi. After Jolan was born, her parents moved the family to Kisvarda, a town in northeastern Hungary. There she grew up with her four sisters and one surviving brother. Jolan had finished her schooling by 1933.
1933-39: Hitler was popular in Kisvarda. Jolan's mother wanted the family to leave Hungary before the situation worsened, but her father, who had been to the United States before, was reluctant to take the family there because he thought it was not religious enough. But he finally gave in and managed to go to New York, where he desperately tried to get them immigration papers.
1940-45: The immigration papers arrived too late. After Hitler invaded Hungary, the Katzes were deported to Auschwitz in May 1944. Six months later Jolan and her sisters were moved to a labor camp in Germany. In January 1945, near the end of the war, they were among the prisoners marched towards Bergen-Belsen. On the third day of the march, during a blizzard, her sisters made a run for it. They got away. When Jolan made her move, she was caught, badly beaten, and though barely able to walk, forced to continue marching.
Jolan survived the march to the Bergen-Belsen camp, but died just after the camp was liberated by the British army on April 15, 1945. Her three sisters survived.