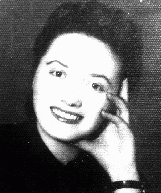 Izabella Katz
Born: May 28, 1924
Kisvarda, Hungary
Izabella was one of eight children raised in a religious Jewish family in the small town of Kisvarda in northeastern Hungary. Every Friday Izabella and her brother and four younger sisters went to the library to borrow the maximum number of books for their mother. Izabella attended public schools and longed to move to a big city.
1933-39: Antisemitism was prevalent. I can't count the number of times I was called "smelly Jew." We cringed at "Heil Hitler" speeches from Germany on the radio because we knew our neighbors would happily join up with the Nazis, and these were people with whom we'd shared our town for generations. My father went to the United States and desperately tried to obtain immigration papers for us.
1940-44: By the time Papa got our visas, Hungary was at war with America. Later, Hitler invaded Hungary. In April 1944 Jews were moved to Kisvarda's ghetto. On May 28 we were ordered to be ready to travel at 4 a.m. Smiling townspeople lined the street to watch us squeeze into cattle cars. At Auschwitz my mother and youngest sister were gassed. My sisters and I were put in camp "C." As the Soviets advanced, we were moved towards Germany to a labor camp. Force-marched west from there in a blizzard, we made a run for it.
Izabella and two of her sisters hid for two days and were liberated by the Soviets on January 25, 1945. They immigrated to the United States and joined their father.