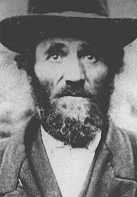 Josef Deutsch
Born: 1865
Viseu de Sus, Romania
Josef was born to Yiddish-speaking, religious Jewish parents in the town of Viseu de Sus in Transylvania, a region of Romania that belonged to Hungary until 1918. In 1890 he married Emma Geisler from the nearby town of Bistrita. The couple had four children and after 1910 the family lived at #4 Hid Street in Viseu de Sus. Josef was a merchant who owned a stall in Viseu de Sus's public market.
1933-39: By 1939 two of Josef's grown sons had moved to the Hungarian capital of Budapest. Josef and his wife remained in Viseu de Sus, a rustic, multi-ethnic town under Romanian rule. They lived near their eldest daughter, Schneidel, and their son Ferenc.
1940-44: The Hungarians marched into Viseu de Sus in September 1940 and annexed it to Hungary. Hungary became an ally of Nazi Germany. New laws were instituted limiting the rights of Jews. Germany occupied Hungary in March 1944, and a month later the Deutsch family was moved into a ghetto established by Hungarian officials for the Jews of Viseu de Sus and surrounding communities.
Josef and his family were among the 8,000 Jews deported from Viseu de Sus to Auschwitz in May 1944. Upon arrival, Josef was gassed. He was 79.