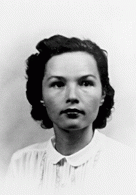 Kato Fried
Born: March 3, 1925
Smolnik, Czechoslovakia
Kato was born to Jewish parents in Smolnik, a small village in eastern Czechoslovakia. While still a young child, she moved with her parents and brother Theodore to Sighet, Romania. There in the Carpathian mountains, her father ran a lumber business that exported wood to Germany and Czechoslovakia.
1933–39: In the 1930s, the popular appeal of antisemitism and fascism increased in Romania. Leaders of the Iron Guard, the militant and violent Romanian fascist party, publicly proclaimed their support for Hitler's Germany and Mussolini's Italy, and denounced the Jews as a subversive and foreign element. At school, Kato and her brother encountered antisemitism among their classmates and teachers.
1940–45: In 1940 Sighet was incorporated into Hungary, an ally of Nazi Germany. Now the Frieds found themselves subject to Hungarian anti-Jewish legislation. In 1944 Kato's father was arrested for listening to British radio broadcasts and he perished in a concentration camp. After the German occupation of Hungary that March, Kato and her mother were deported to Auschwitz, where they were selected for forced labor. In December, they were sent on a death march to Germany. In spring 1945, they were liberated by Allied troops.
After the war, Kato and her mother returned to Hungary, where they reunited with Theodore, who had survived in hiding. Soon afterward, they crossed the border into Germany, where the family remained until 1948, living in camps set up to house Jewish displaced persons.