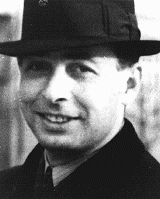 Leo Nitschke
Born: February 28, 1908
Brno, Czechoslovakia
Leo was one of two children born to Jewish parents in the Moravian capital of Brno. When Leo was a child his father died, and Leo and his sister, Edita, were raised by their German-born mother. On November 27, 1931, Leo graduated with a law degree from Brno University.
1933-39: After courting Hilda Krakauerova, a dental technician, Leo married her on December 23, 1935. Leo served as a district judge in Brno and in the town of Postejov, and in 1938 he was appointed judge and secretary to the Moravian supreme court in Brno. In March 1939 the Germans occupied Bohemia and Moravia. Leo was fired because he was Jewish, and he and Hilda were forced to move out of their apartment.
1940-44: The Nitschkes moved in with the family of Leo's sister Edita. In 1941 Leo became a liaison between the Germans and Brno's Jewish council, and he helped prepare emigration lists for Palestine [the Yishuv]. In June 1943 the Germans deported Leo, Hilda and Edita's family to the Theresienstadt ghetto in western Czechoslovakia. Leo and Hilda lived together in the ghetto's married quarters. On October 28, 1944, they were deported to Auschwitz.
In Auschwitz Leo was selected to do slave labor. He died in the camp's infirmary in January 1945. He was 36 years old.