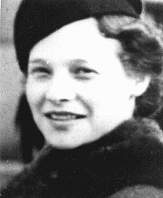 Hildegard (Hilda) Krakauerova Nitschkeova
Born: August 23, 1913
Hodonin, Czechoslovakia
Hilda was the youngest of six children born to Jewish parents in a small Moravian town, where her father ran a dry-goods and clothing store. Her family spoke both Czech and German at home. Hilda was a tomboy when she was growing up, and competed on the Maccabi swim team. She attended a public secondary school in Hodinin, and wanted to pursue a career as a dental technician.
1933-39: In February 1933 Hilda moved to the Moravian capital of Brno where she attended dental school. On December 23, 1935, she married Leo Nitschke. Two years later, she graduated from dental school. In March 1939 the Germans occupied Bohemia and Moravia and quickly imposed restrictions on the Jewish population. The Germans evicted the Nitschkes from their apartment, and Hilda, as a Jew, was forbidden to treat non-Jewish patients.
1940-44: The Nitschkes had moved in with the family of Leo's sister, Edita. Hilda found work as a dental assistant with a Jewish dentist. In June 1943 Hilda and Leo were deported with Edita's family to the Theresienstadt ghetto in western Czechoslovakia. On October 28, 1944, Hilda, Leo, and Edita's family were deported to Auschwitz. There, Hilda was selected for slave labor. She was transferred to the Bergen-Belsen concentration camp, and then put to work in an aircraft factory in Raguhn.
Hilda was back in Theresienstadt when the ghetto was liberated in May 1945. After the war, she returned to Brno and learned that her husband had died in Auschwitz.