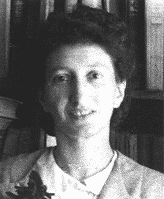 Lucie Kupefer Munzer
Born: May 11, 1899
Gera, Germany
Lucie was born to Jewish parents living in Gera, a medieval German city on the banks of the Elster River in the Thuringer Forest. Gera was well known for its manufacture of Leica cameras, for its publishing houses, and for the extensive collection of Gobelin tapestries in one of its museums.
1933-39: A few weeks ago, I married Hans Munzer here, in Paris. Hans fled Germany last year because the Nazis began rounding up and imprisoning socialists, and as a district supervisor for the Social Democratic Party he was on their enemies list. I came from Berlin to join Hans and now we're living in Paris's 15th arrondissement, one of the city's outlying neighborhoods. I help him run a lending library.
1940-44: Hans has had a falling out with his business partner in Paris, so we've decided to move here to Nice. This city is a kind of haven for Jews in France because the Italians, who have occupied this area, leave us alone. We have three synagogues in Nice, a kosher Jewish kitchen, and many Jewish doctors. Hans and I have set up another, small lending library, and our book collection includes volumes by authors banned in Nazi Germany.
In September 1943 Germany occupied Nice. Six months later, Lucie and Hans were deported via Drancy, outside Paris, to Auschwitz, where they were immediately gassed.