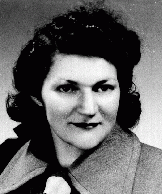 Magda Hellinger
Born: August 19, 1916
Michalovce, Slovakia
Magda was the only daughter in a family of five children. Her town of Michalovce, in eastern Slovakia, was an agricultural trade center and it had a large Jewish population. Magda's father taught Jewish history in local Jewish schools. Magda grew up learning Hebrew songs and listening to stories about Jewish history.
1933-39: It's Magda's nature to work with people and to help them work together. In Michalovce she studied to become a kindergarten teacher, and worked to establish a new chapter of the Jewish Scouts. Strongly believing in the Zionist cause, she helped organize programs of the Jewish National Fund to raise money for buying land in Palestine.
1940-44: Magda was deported to Auschwitz in 1942. After being ordered to become a camp elder, she complained to the camp commander: "There are no beds, mattresses, or blankets! The women will have to sleep on top of each other on the floor, and then you'll call them dirty Jewish swine. So why not just send them to the gas chambers?" He was curious about why she cared. Magda said: "If you were in charge and did not help German prisoners, I would call you a coward!" He conceded, "Right. Tomorrow you'll get what you want for the prisoners."
During a forced march out of Auschwitz, Magda was rescued by partisans. After first returning to Czechoslovakia, Magda immigrated to Israel. She later moved to Australia.