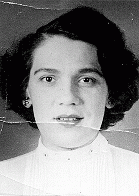 Magda Rein
Born: June 7, 1927
Satoraljaujhely, Hungary
Magda was the oldest of two children born to observant Jewish parents. They lived in Satoraljaujhely, a town in northeastern Hungary on the Czechoslovakian border. Jews represented some 20 percent of the town's approximately 18,000 persons. Magda's father owned a bakery; her mother was a midwife.
1933-39: At 10 years of age, I began accompanying my mother when she attended to births nearby. My mother helped all women--Jews, Gypsies and peasants in the surrounding villages. When I was 12, she let me help. I'd hold a kerosene lamp for her when she needed extra light. She taught me how to hold the newborn, and bathe and dress it so she could attend to the mother. If it was a baby girl, sometimes the mother named her after me.
1940-44: In 1944, two months after the Germans occupied Hungary, we were deported to Auschwitz. My mother and I were among the women selected for labor. We were lined up; an SS woman screeched that if we disobeyed her, we'd leave Auschwitz through the chimneys. My mother and I were together two months before she was selected for a transport leaving the camp. Distraught, I ran after her, but an SS woman bashed me in the head with her rifle, throwing me to the ground. She kicked my chest until my ribs were smashed.
In October 1944 Magda was deported to Germany for forced labor, and then to Theresienstadt in April 1945. She was liberated by Soviet troops on May 8, 1945.