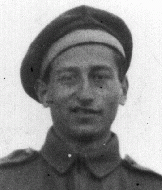 Mikulas Diamant
Born: July 10, 1919
Bratislava, Czechoslovakia
Mikulas and his German-speaking Jewish family lived in the town of Hlohovec. His family owned a large farm and his father was a rancher. In 1932, due to declining economic conditions, Mikulas's father began to sell all of his property. Then the family moved to the city of Bratislava, where they had many relatives.
1933-39: Mikulas's father worked with his uncle in the wholesale paper business. Mikulas worked part-time in a workshop as an electrician and he went to high school. In 1938 his family began to hear of German atrocities, such as the "Night of Broken Glass." In 1939 the fascists took over Slovakia and Mikulas was drafted into the Slovak army. Along with 500 other Jewish inductees, he was sent to a work camp, where they cleared snow off the roads.
1940-44: When Mikulas returned home three years later, Jews were being transported to Nazi concentration camps. In Bratislava he did his best to remain inconspicuous but he ran into an old army friend. Suddenly Mikulas was pushed into a Gestapo car. His "friend" was an informer. The Gestapo took him to their office. They wanted names of other Jews. Mikulas saw an open window, and he leaped out and fell on his back. Waking in terrible pain, he somehow managed to get to his home. Mikulas and his friends planned to escape the Nazis, but one day the SS knocked at his door.
Mikulas survived several concentration camps before being liberated by the Soviets. After the war he immigrated to the United States.