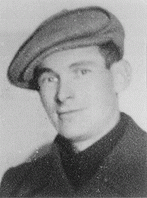 Moishe Rafilovich
Moishe was one of three sons born to Yiddish-speaking Jewish parents in Radom. This industrial city was known for its armaments factories, in which Jews were not allowed to work even though they totaled more than one-fourth of the city's population. When Moishe was young, he left school to apprentice as a women's tailor and eventually became a licensed tailor. He also played soccer for a local team.
1933-39: In 1937 Moishe, by then a master tailor, married another tailor's daughter. The couple had two girls and lived in an apartment on 30 Zeromskiego Street across from his close friend, Itzik Rosenblat, who was also a tailor. On September 1, 1939, German troops invaded Poland and entered Radom seven days later. The occupying Germans evicted the Jews living on Zeromskiego Street and declared the street off-limits to Jews.
1940-44: Like all of Radom's Jewish citizens, Moishe's family was forced to live in a ghetto after April 1941. In 1942 the Germans assigned Moishe and other master tailors to work in an SS shop on Szwarlikowska Street. During the German liquidation of Radom's two ghettos in August 1942, Moishe tried to hide his family in the shop, but his wife and daughters were wrenched away from him and deported to Treblinka. Like other master tailors and skilled artisans, he was selected remain in the ghetto as a forced laborer.
Two years later, Moishe was deported to the Vaihingen forced-labor camp, where he died in March 1945 of disease, malnutrition and beatings. He was 30 years old.