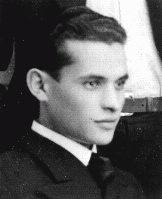 Itzik Rosenblat
Born: January 8, 1914
Warsaw, Poland
Itzik, also known as Izak, was one of three sons born to Yiddish-speaking Jewish parents. When Itzik was a young child his family moved to the city of Radom. Itzik left school when he was 11 to apprentice as a women's tailor. After he apprenticed with several tailors in Radom and Warsaw, he went back to school and earned a tailor's license.
1933-39: In 1938 I married Taube Fishman, the daughter of my first employer, after a 13-year courtship much opposed by her family. We lived in Radom, where I opened my own shop in our apartment on 49 Zeromskiego Street. In July 1939 we had a son, Max. Germany invaded Poland that September and occupied our city on the 8th. The Germans forcibly removed all the Jews from our street. We were left with only the clothes on our backs.
1940-44: Radom's Jewish Council assigned us to a shack, which was later enclosed in a Jewish ghetto. I made clothes for the Germans, who gave me food in return. In 1942 the Germans assigned me and other master tailors to work in an SS shop. One night in August, German soldiers entered the ghetto and started shooting and deporting people. I tried to hide my family in the shop, but we were caught in a roundup and my wife and son were wrenched away from me. I was selected to remain in the ghetto as a forced laborer.
Two years later, Itzik was deported via Auschwitz to the Vaihingen camp where he was liberated by French troops on April 5, 1945. In 1950 he immigrated to the United States.