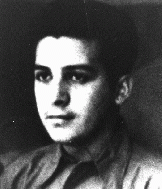 Sandor Braun
Born: July 14, 1930
Cristuru-Secuiesc, Romania
Often known as Sanyi, Sandor was born to religious Jewish parents in a small city in Transylvania, a province that had been ruled by Hungary until 1918. During the 1930s his home city was renamed I.G. Duca in honor of a slain Romanian leader. The fourth of six children, Sandor was also known by his Hebrew name, Yitzhak. The Brauns knew Yiddish, Hungarian, Romanian and Hebrew.
1933-39: Before my fourth birthday, a babysitter took me on an outing into the forest. When she fell asleep I wandered away. Some roaming gypsies found and took care of me. I loved their music; I wanted a violin of my own. Three days later they returned me to my distraught parents. For my next birthday I was given a small violin and began music lessons. I practiced whenever I could. My mother said I practiced too much.
1940-45: Deported by the Germans in May 1944 [to Auschwitz and then to Kochendorf], I eventually ended up in Dachau, where an SS guard, promising extra food, entered my barracks with a violin, asking if anyone could play. Three of us volunteered. The first played well, but our work boss smashed his skull with an iron pipe. The second, too scared to play, was kicked to death. Then the violin was handed to me. I paused as the work boss gripped his iron pipe. Without thinking, I played the "Blue Danube"; this pleased the SS guard. I got the extra ration.
On April 29, 1945, Sandor was liberated in Dachau by American troops. In 1950 he immigrated to the United States, where he became a composer and a professional violinist.