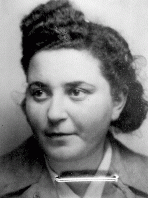 Simone Weil
Born: April 22, 1920
Ringendorf, France
Simone was the oldest of two children born to a Jewish family in the small village of Ringendorf. When she was 3 her family moved to Strasbourg. Her father made his living breeding sheep. Simone and her younger brother were both active in a Jewish scouting organization, Les Eclaireurs Israelites de France (EIF). Simone attended a public secondary school in Strasbourg.
1933-39: In addition to attending secondary school for five days of the week, Simone also went to a Jewish religious school on the other two days. She began to take on increasing responsibilities in her scouting troop. In 1936, when she was 16, she became the leader of the troop, in charge of 35 girls. Two years later, in 1938, she graduated from secondary school and began to study early childhood education and social work.
1940-44: Early in 1940 Simone took a teaching job in Paris. When Germany invaded France that May, her family fled to the south. A friend working with OSE, a Jewish aid society, asked her to be a resident social worker in Rivesaltes, an internment camp for foreign-born Jews near the Spanish border. They tried to provide the adults with forged documents, but for each person they managed to get off the trains, the Nazis substituted someone else. But they rescued most of the children in the camp before the deportations began in 1942.
For the remainder of the war, Simone assumed a false name and joined the OSE underground network to hide Jewish children in southern France. In 1949 she immigrated to America.