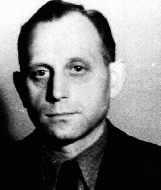 Walther Hamann
Born: March 9, 1904
Greiz, Germany
Walther was born in the state of Thuringia in east central Germany. Though his parents were Lutheran, Walther became a Jehovah's Witness in 1923. After becoming a master baker and confectioner in 1924, Walther worked in various coffeehouses in Plauen, Magdeburg and Duesseldorf. In 1928 he graduated from a professional school. He married and had two sons.
1933-39: In 1933 Walther became a pastry-making manager at the Cafe Weitz on Duesseldorf's Koenigsallee. The Gestapo arrested him at the cafe in 1937 because he was an active member of a banned organization, the Jehovah's Witnesses. The Special Court in Duesseldorf gave him a 27-month sentence because of his preaching. Imprisoned in Duesseldorf and Wuppertal-Elberfeld, he was then moved to penal camps in Walchum and Neusustrum in northwest Germany.
1940-44: When Walther completed his prison term in February 1940, he was given another chance to repudiate his faith. He refused, was beaten and then sent to the Sachsenhausen concentration camp where he was kicked and beaten upon arrival--he saved himself by hiding in a latrine. A month later, Walther's brother-in-law Dietrich, who had been there four years, died at his side. With Jehovah's help Walther endured hard labor and repeated beatings; when he could, he smuggled food out of the SS kitchen and scraps from garbage cans.
During a forced march towards the Baltic Sea, Walther was liberated on May 3, 1945, after his SS guards fled. He remained in Germany after the war.