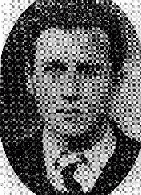 Wolf Wajsbrot
Born: 1925
Krasnik, Poland
When Wolf was a young boy, his family moved to France to escape Poland's economic instability and growing antisemitism. Soon after they settled in Paris, his father found work in construction, and Wolf started elementary school.
1933-39: Paris was home to Wolf, but he loved to listen to his parents reminisce about autumns in Krasnik and journeys to Lublin. Hitler invaded Poland in 1939. The Wajsbrots learned of the death camps and mass deportations of Jews. Wolf's parents no longer spoke of the past. Wolf received his school certificate, and at age 14 he began an apprenticeship to a mechanic.
1940-44: The Germans crossed into France in early 1940, and by June they occupied Paris. The Wajsbrots escaped many of the early roundups of Jews, but on July 16, 1942, Wolf's parents were arrested and deported. At 17 he joined the armed resistance group, Franc-Tireurs et Partisans, to fight against the German occupation. He helped to set two bombs on a Paris street that killed many German officers and soldiers. In the autumn of 1943 he was arrested.
Wolf was tried by the German authorities in February 1944. Convicted and sentenced to die by firing squad, Wolf was executed on February 21, 1944. He was 19 years old.