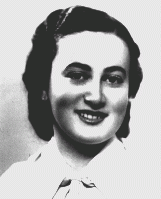 Barbara Marton
Born: May 4, 1920
Beliu, Romania
The Martons were one of 35 Jewish families in the small northern Transylvanian town of Beliu. Barbara's father owned a grocery, and her mother helped out in the store. The Martons lived in a comfortable home with a flower garden, and enjoyed friendly relations with the townspeople. As a child, Barbara learned Hebrew on Sunday mornings at the home of Beliu's rabbi.
1933-39: Father's business began to fall off when another grocery opened nearby in Beliu. By 1937 business was so bad that we sold the store and the house, and moved to the city of Oradea. Our new house was a combination of a store and living quarters. Our life returned pretty much to normal; I was one of the best students in my class at the Oltea Doamna state secondary school for girls, and looked forward to attending university.
1940-45: In 1940 the Hungarians entered Oradea and imposed many anti-Jewish restrictions, including barring Jews from attending universities. I found work as a low-paid lab technician. Then in late March 1944 the Germans took control of Oradea. Soon after that, my parents and I were deported to Auschwitz. One day, punished for spilling soup, I was forced to kneel from dawn till noon holding bricks above my head. From afar I could hear a band playing "The Merry Widow." I cried as I knelt, listening to that music.
Barbara was liberated by the Swedish Red Cross in 1945. She returned to Romania, where she attended university and married. She moved to Israel in 1962 and then to America in 1968.