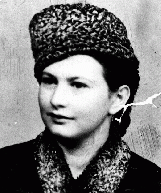 Edith Fuhrmann Brandmann
Born: September 11, 1931
Kriesciatik, Romania
Edith's village of Kriesciatik was located on the border between Romania and Poland. Her Jewish parents owned a large ranch where they raised cattle and grew sugar beets. They also owned a grocery store. Edith had a brother, Jacob, and a sister, Martha. At home the family spoke Yiddish and German, and Edith learned Romanian after she began school.
1933-39: Our village was by a river, and I spent summer days by the water with my friends, swimming and playing. My mother would pack me bread and butter sandwiches and cherries. Sometimes I'd go to the forest with my best friend, Fritzie, to pick wild strawberries and flowers. During Easter, my parents made sure that we stayed inside because the local peasants would get drunk and sometimes attacked Jews, blaming them for killing Jesus.
1940-44: In 1940, a year after the war began, Romania became Germany's ally. I was 9 when Romanian police expelled the Jews from our village and sent us, on foot, to a place in Ukraine where Jews were concentrated. We were brought to a huge barracks where there were thousands of Jews. Nothing seemed organized. We learned that every day, 1,000 Jews were rounded up and sent to Ukrainian ghettos. When Father heard about this, he told us to stall until he could arrange our escape.
Edith's family spent more than three years sheltered by Jewish families in a Ukrainian village, and they survived the war. In 1959 Edith immigrated to America.