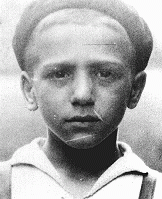 Ezra BenGershom
Born: 1922
Wurzburg, Germany
Ezra was born to a Jewish family in the Bavarian city of Wurzburg. In the summer of 1929, his father, a third-generation rabbi, accepted a position as a district rabbi, guiding 12 congregations in Upper Silesia. In primary school, Ezra, who showed a keen interest in chemistry, was often harassed by his schoolmates for being Jewish.
1933-39: Because of my "Nordic" features, I was able to frequent places where Jews couldn't go. In 1938, one year after I entered a Jewish secondary school in Berlin, the Nazis began deporting Jews to concentration camps. Seeking a way to get out of Germany, I joined a Zionist training cooperative near Berlin where city youth were being prepared to emigrate to Palestine to found agricultural settlements.
1940-44: In 1941 I fled to Berlin when the Nazis stepped up deportations of German Jews. To elude Gestapo patrols I constantly moved about the city and I fashioned a Hitler Youth uniform. With the swastikas and my blond appearance, I passed as an Aryan. In April 1943 I escaped to Vienna using false documents stating I worked in the armaments industry. Then I made my way to Budapest, where I went underground until the Germans invaded Hungary. I fled to Romania where, in November 1944, I boarded a Turkish vessel to Palestine [the Yishuv].
In Palestine Ezra realized his dream to study biochemistry. For 25 years he headed the Clinical Chemistry Division of the Academic Children's Hospital in Rotterdam.