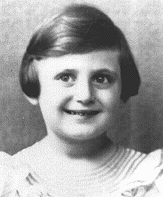 Freya Karoline Lang
Born: June 13, 1934
Lambsheim, Germany
An only child, Freya was born to Jewish parents who lived in a small German town in the Rhine River valley. The Langs owned a successful dry goods business. At this time ready-made clothes were still rare in the countryside. Townspeople and local farmers would purchase fabric at the Lang's store and then take it to their tailor or seamstress to be sewn into a garment.
1933-39: When Freya was growing up, the Nazi party was in power. Many Jews left Germany--Grandmother Lang and one of Freya's uncles sailed for America. But her father didn't want to leave his business. He opened a new store in Mannheim, where the family moved. On November 10, 1938, the Nazis rampaged, wrecking Jewish stores and arresting Jews [Kristallnacht, The Night of Broken Glass]. They padlocked her father's store and took him to the Dachau concentration camp. He was released in 1939.
1940-44: When Freya was 6 years old, her family was sent to a detention camp in France. An aid society managed to get Freya out and she was hidden with a French farm family--the Didiers. For safety, she was taught to be a "Catholic." When her classmates made their first communion, she wanted to also because everyone wore such a pretty white dress. But Madame Didier said no. She didn't say Freya was Jewish, just that Freya should "wait for her parents so they could be there." How Freya cried. After all, she no longer realized that she was Jewish.
In 1946 Freya was reunited with her father. She learned that days after she had been taken from the camp, her mother had been sent to Auschwitz, where she perished.